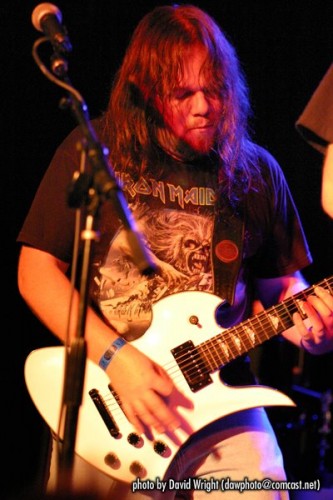 Burning Shadows is proud to welcome Matt Ibach back to the stage! Matt, Burning Shadows' bassist from 2004-2007, will once again be crushing posers onstage with Burning Shadows, this time on rhythm guitar. He will make his live re-debut with the band at the Sidebar in Baltimore on November 17, 2011. Matt is currently playing guitar in the almighty October 31 and has formerly played in NWOBHM masters Acid Queen and thrash wizards Relentless.
Since the departure of former bassist Aaron El-Zeftawy, Burning Shadows has searched for a new bassist. When the bassist search turned up nothing, the decision was made to find a live guitarist instead and move Tim Regan to play bass live. "The studio side of the band was fine, but the live show has been suffering without a bassist," says guitarist/bassist Tim Regan. "Matt already knew a lot of the songs, has the face-melting capabilities we need onstage, and we are good friends with him, so he was the first person we asked when the decision was made."
Burning Shadows is continuing to search for a permanent bassist.
Below, Matt Ibach performs Saxon's "Power and the Glory" with October 31 at Defenders of the Old Fest 2: